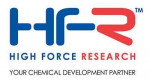 High Force Research
Established in 1988, and based in Durham, High Force Research are proud to remain a truly independent UK chemistry CRO. We collaborate with discovery groups, start-ups and spin-offs from academia and industry in synthesising new materials for proof-of-concept studies and in process development on the route to market.
We have the expertise and capability to devise synthetic routes to new molecules or to identify and evaluate alternatives. Working at both bench-top and kilo-lab scale, we develop processes to meet our client's targets of yield, specification, safety, environmental impact and economics. Later we offer support in technology transfer to commercial production.
Our MHRA audited cGMP facilities comprise two segregated laboratories, in which we produce from grammes to multi-kilos of Active Pharmaceutical Ingredients and their intermediates to cGMP standards for pre-clinical studies and Phase I/II clinical trials.
We offer a fast response and flexible service to all our customers and partners and can operate on a fee for service, collaborative research or joint venture basis, depending on the project and business requirements.